The Biggest Challenge So Far
By right I'm very busy with my job now. I have new project contract to read before tomorrow kick off meeting. I need to summarize the additional work and also start to issue PR for CP4 project. Also my frustrated Digi project that still pending from claim.
I still don't understand why I had selected and what quality that they found from me. Today receive a email from the COO and written like this,
"Mr. Lim is our PM for UCTS P2S2.
He will be visiting the site team together with Mr. Goh this week.
Pls give them full support to manage UCTS projects & other works"
Honestly, I'm happy that finally I have my own project to handle and I'm the Project Manager of the new project. The project value not as big as DIGI and Sunway project that I handling now. But the system for the project is too large for me and some of the system I no idea at all how to do it. Thats really scare me off.
Mix feeling
Positive way
1) Is an opportunity
2) Can learn lots of new system
3) On right track to become a project manager
4) Good in career prospect
Negative way
1) New environment, new place, new people
2) LOTS of system
3) No room to fail
4) Alot of thoughts
This is the first time a company put so much trust on me. I'm not sure why I don't have the confident. Maybe I put a of lot hope in this project where it's 100% they let me to run the show. The problem is I never run so big show!!! I hope I got a good support from the team and also the top management in this project. Off cause I will try my very best to make everything works. Will be very very very busy with this project. Wish me luck guyz!!!!
the V
Year of 2015
I left my blog unattended again for almost a year. Again I free myself again during the second day of Chinese New Year.
Wishing all my friends and visitor of this blog a Happy Chinese New Year. Hope the Year of Goat will bring more good luck for everyone.
Let's review what really happen in the past.
There are some great things happen to me last year. From scuba diving to sky diving, 30th Birthday celebration and the trip to Australia. Beside that I also have a chance travel to Moscow again for business travel and also finally a chance to go to Hong Kong for company trip.
Well, as usual life not always that great. Some disappointment as well in career and also some friendship thingy. I won't explain much about my job here. Just want to say my plan doesn't work and don't think I'm a piece of useless junk sitting in the office. While for friendship I also won't explain much as well. Just don't forget the most important ingredient in friendship is call "RESPECT". Sometime people no idea what they talk and react when too excited. The excitement happen when there is a GROUP of people talking crap a.k.a gossip.
For this 2 issue is very easy to resolve for me. Since the company is not mine and the mouth is not mine as well so I can't control anything from them. What I can do is to leave. Sound like I'm giving up. Sorry to say that the thing I can't control I don't want to waste so much time on it.
Year 2015 I expect a change in my career and also less travel. I will focus more in building career to generate better income. Also hope I can actively back in running and other sports to reduce LOTs of weight. Basically will improve myself mentally, physically and also financial. Wish me all the best.
Anyway Happy Birthday to ME!!!! ><
the V
Success
Someone share this video in Facebook and I think is interesting
I'm kind of agree with this guy talking. Here are the 8 things that he highlighted.
1) Passion
2) Work hard
3) Focus
4) Push
5) Idea
6) Improve
7) Serve
8) Persist
Last time when I was young I only believe hardworking will make myself successful person. I think a year back I only realize that success not only about hardworking. I'm struggling to find what I want and I'm all over the place. Passion is very important for me. When we passionate what we doing I think the others seven points will automatically will come.
Last year I think I had proven my point above. From no where, suddenly I fall in love with running. I'm working so hard in running. I hit the treadmill and the park everyday after work. I will run when I have chance. My friends told me that I'm crazy. I always stay focus and think positive. I push myself every time I want to give up. I try to improve myself so I can achieve better result. Although I'm not an awesome runner but I'm very proud of myself from a fat guy that have knee injury to a guy that can run fast and long distance among the friends.
Unfortunately I'm lost myself again from the very early of the year till today. I'm so off from the track what I had planned. Thank God I watched this short video. It's remind me what I want in life and I need to pick up myself to make the year 2014 a success. Nothing is too late, find back the passion and keep moving. Gambateh!!!!!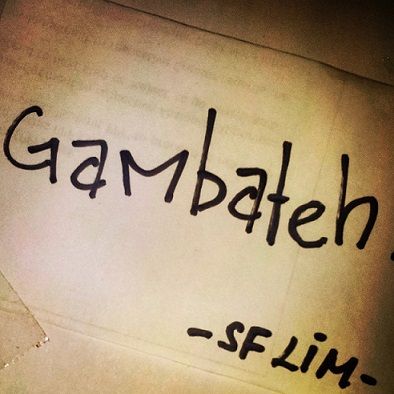 the V
Re-Cap the year of 2013, the year full of colours
" Year 2013 is running year for me" that is the main goal I set for last year and I think I didn't let myself down. Although my running is inconsistent but I never give up running. I will keep on running.....


10 run events, 2 shoes, 8 medals - 1 mini cup, lot of pain, and also lost count of practise time.
Beside that I signed up for a Open Water Dive course, unfortunately 'someone' really disappoint me not only the arrangement for the course but also the time and money that I put into the course. That fellow kind of betray me and give me all the selfish reason when he and his gang complete the course without me. But is okay, at less I know what kind of person of him now. An expenses lesson that cause me more then RM600 wasted.
the text book and some of the gear
Travel!!!! I did travel quite a lot in year 2013 for company business trip and also for personal trip. I went to the countries and cities that I never been to. Start with a trip to Moscow, Russia then follow by local trip to Pulau Langkawi and then Ho Chi Minh, Vietnam. The last trip is Phuket, Thailand. Honestly I expecting a dive trip and also one more trip to Tokyo, Japan but there always disappointment happen on me. I still glad I able to travel four places that totally new to me and also awesome trip to Penang and Taiping as well. :)
The jump at St Basil, Moscow - The iconic eagle in Pulau Langkawi - Awesome city view of Ho Chi Minh - Beautiful beach of Phuket, Thailand.
Life not always sailing smooth. In year 2013 I met two car accidents. First just a minor accident while the second accident quite serious. Thanks God no one is hurt in both accidents.
Basically the year of 2013 is quite awesome year for me. Although there's quite a lot of disappointment along the road but I think I able to overcome it and move forward. Thanks to the people around me especially my friends (my hengdai'z) and family member that always support me when I lost my way.
The day to end the year 2013 and also entering the year of 2014.

the V
Limitation
Credit : Back few years I read a few sentences from a blogger's blog and it awaken me from sleep. Just a simple words but it reflex to me with a quite huge impact. Really thank a lot to Mr Y for making me to keep thinking.
When I was young I'm was an achiever. People can see bright future at me; selected to walk the road that not ordinary people able to walk; good starter in education and also curriculum that look quite promising in both aspects. Too bad not everything runs smoothly in everyone life, so am I.
I experienced a down fall (not drastically) in my life after a good start. Everytime thing not happens I will find a way to solve it. But I did a mistake along the way. I didn't realise it until this back few years. All the while I handle failure by escaping and not solve it to become stronger. I would say, "Yes, I overcome the problem". But never care and study the solution after the problem off from me. Just a very simple and easy thought that cause me stop growing to become a better man. Human learn from mistake. But do we learn how to solve it or we learn how to escape it. Sadly to say that I fall into the category of learn how to escape it. From here we will start to set a specification and limit so that we not going to face such a problem again. Instead of we know what to do when we face the problem. When there are a lot of failure happened it will cause a lot of specification and limit in our life.
I really do think that life is very challenging. I won't buy the idea of being simple will make thing not so challenging and less complicated. I only accept this idea if a person can life solely base on themselve without related to other people. No one told me and guide me how to become a better man. So I always limit myself and can't live my life to the fullness. I'm lack of confident when I'm in a bigger group. This is because I didn't learn thing completely and I only learn stuff just to pass. When we set a limit for ourselve we do feel life lighten a bit. We just care things just on the limit that we set and out from the limit we not going to care about it. For long term run it will destroy our life. Limitation will stop us from growing and expand our potential. When we comfortable with the limit that we set, we will stay at that level. If not we will keep tuning and lower down the limit until we feel comfortable with the level. Does it sound that we are keep going down instead of growing up?
Again, I really want to thank to Mr Q who share the idea of limitation of life in his blog. I think he wrote just few sentences that related to limitation but it triggered me quite hard. At that time I start to think and don't care the limit I set earlier. I also start to test the limit inside me. Honestly I don't really know how far I can go. I never push myself to the very end in term of ability. So now every challenge come I keep telling myself I can do it and I can go beyond the challenge. Keep the positive thinking and push to the very end. Either fail or success after the challenge we will know the real limit we can handle.
So guyz/gals know your limit is good BUT don't let the limit control and stop us from growing up. If not we will forever stuck at the limit we set. Ask ourselves is it that far we can go? All the best guyz/gals……
the V
Professional
I'm a Bachelor Degree in Engineering holder and major in Electronic Engineering. Does it sound I'm heading to a professional career after my study? When I sign up the program course for Electronic Engineering few years back in TARC I'm very proud of myself because I'm able to put myself along with other students that chasing for their dream to become someone special in future that create awesome stuff. Beside doctor profession, Engineering is another top profession that a lot of people think is not an easy job to complete the course. Honestly I really think that engineering course is not an easy course. It's became tougher when you decide to take the course in TARC due to the timetable of the class and also the heavy credit hours to complete in a single semester (But now the system had changed, I guess current student have more freedom and flexibility nowadays).
After completed my degree program course in United Kingdom, I start to hunt for a job that can bring me to become a good engineers. I put my expectation very high that time. Selecting best company and also best job scope that the company able to offer. Everything started very smoothly. First job I'm a Research and Development Engineer (R&D) in one of the Japanese company. I learnt a lot of things in that company and till now I still think is one of the companies I had worked in.
Due to the living cost in Kuala Lumpur very high, I have to give up the job that I like and search for a better job that can improve my life. So I able to land a job that locate nearer to my house and have a better pay. But the down side is I have to lower down my position from R&D Engineer to Product Test Engineer. From that second everything starts to change. The way I think and the

philosophy

that I always fight for no longer apply to me. My dream to become a professional engineer is like fading away. Although I'm still holding the title as an engineer but the job scope not near to the job as an engineer.
Thing became worst when I take the risk to give up as an engineer and move to Information Technology (IT) field. Not because I like IT field but the main objective is to start up a business. Moving from an international company and MNC company to a local SME company, gave up from a quite promising career to career that unpredictable, from an engineer to none title businessman, more than 5 years proper profession education to totally no formal education, 2 years plus professional experience to totally no experience field. Does it sound too risky to select this path to move forward? I have no choice to make the first step or I will stuck forever working for other people. No doubt there are some companies really worth to work with. Report said that the former CEO of Exxon Mobil paid almost half a billion on his retired day. The problem is how many can we have such an opportunity especially the Malaysian? It's made this road to travel even more risky. Not to say that we are Malaysian not good, just that not many companies owned by Malaysian able to play the main character in global economy. We just at the base or foundation level and yet reach neither the middle nor top level.
So, to become a professional or not to become a professional choose it for yourself.
the V
Bon Odori 2012 Shah Alam
Bon Odori festival I heard this festival since I'm very little. At one time I cried cause my elder brother don't want to bring me along for this festival when I was small. Yesterday Japan Embassy of Malaysia organize Bon Odori Festival for the 36th years at Shah Alam. So I take the opportunity to pay a visit for the FIRST TIME. Yes... for the first time after 28 years of my life so far. As usual first time I need people around to accompany me. So I drag my hometown's friends (SC, Pundei and Handsome) along. Hahahaha.... Surprisingly all of us are first timer. Everyone of us looks excited for this festival.
From my point of view just a normal fare. A lot of booth selling Japanese stuff and also non-Japanese stuff. What surprise me that there are few booth selling alcohol. Beer and wine in Shah Alam? Somemore an event that open for public with no restriction of age and religious. That really surprise me. Off course it doesn't matter for me. I'm more happy with those beer. Is a good place for picnic and hang around with friend and family (if they enjoy relax and picnic). Just one down side is they should organize in a bigger stadium cause there are really damn a lot of people.
Such festival I think I will go again. Cause I like to sit down and look at people around with coffee or beer. Maybe with someone special.
*** a brief post by me about this festival. Do drop me a message or comment if you all want to have more detail. I try to provide more info. Thank you.
the V